EK Balasubramanian
Director, Solutions & Technology
---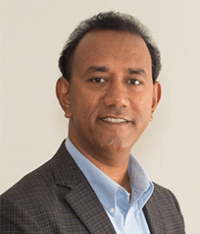 EK Balasubramanian leads V2Soft, Inc.'s solutions and technology worldwide. He has over 24 years of global experience in the Information Technology solutions for many industry verticals leading presales, strategy, architecture, customer experience, product and platform development. EK is responsible for the expansion of the partnerships and solutions, achieving greater excellence in sales, solutions and emerging technologies through strategic initiatives and proactively nurturing key alliances and business partnerships.
Prior to joining V2Soft, EK was with General Motors leading their Strategy and Solutions for Connected Products, Platforms and Services. Prior to that he has held several leadership roles with responsibilities spanning product management, customer experience, technology and delivery. His early career was in R&D and Product Development.
EK has a Masters in Computer Applications and Bachelors in Computer Science from top universities. He has also authored books and publications in the areas of Customer Experience, Business Architecture and Business Process.